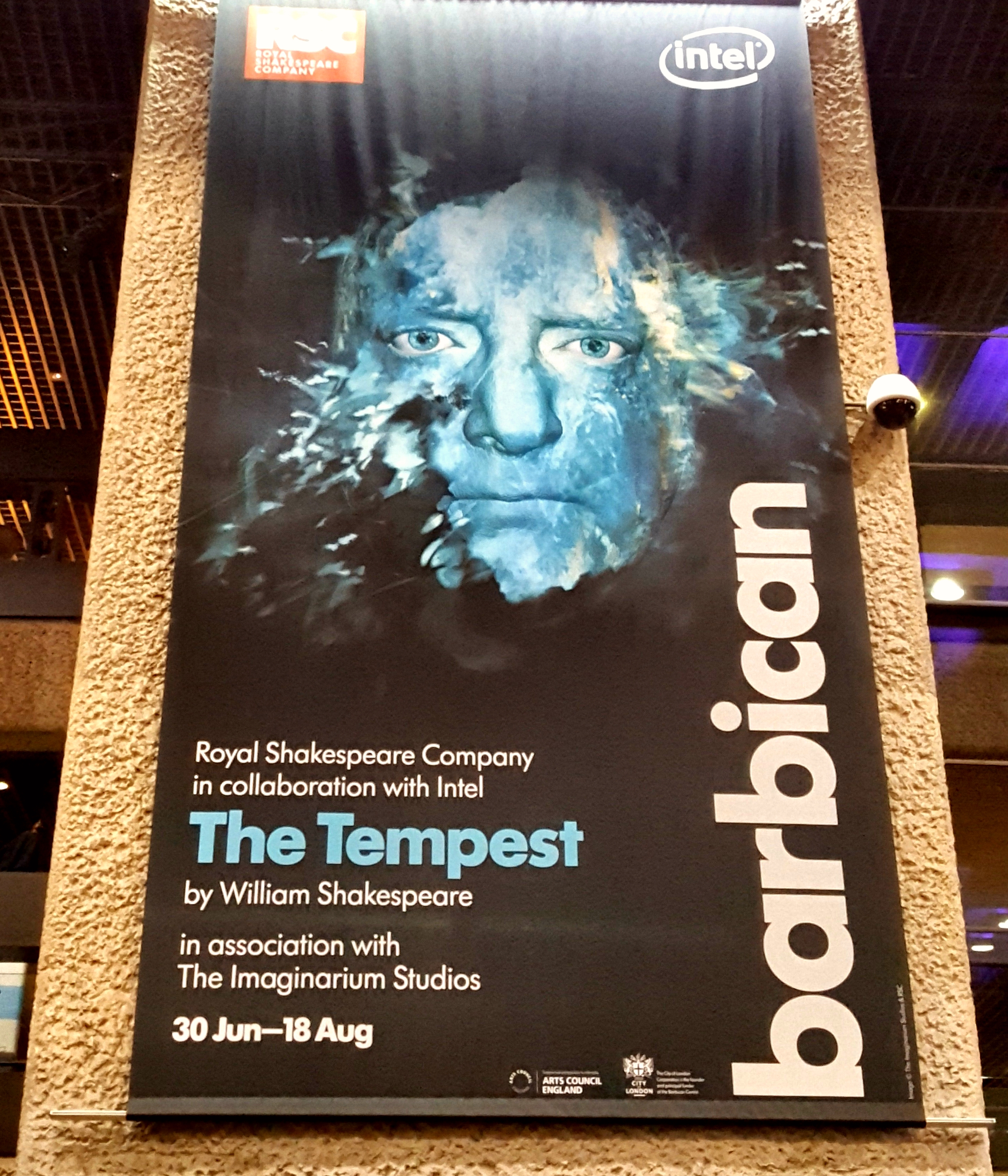 The Tempest by William Shakespeare 
20th June – 18th August 2017 at the Barbican, London
Royal Shakespeare Company in collaboration with Intel
Taking a seat in the Barbican's theatre tonight, the sound of the ocean immediately transports the audience away from the busy urban London scenes outside the venue to distant shores in fitting preparation for the Royal Shakespeare Company's re-imagining of Shakespeare's The Tempest.
The warm orange glow from the stage and minimalist setting with only a large wooden shelf structure on either side promotes a sense of tranquillity, albeit a false one when suddenly the room is transformed with digital imagery, catapulting the audience into the centre of a ferocious storm. As the frequency of the waves intensify, now crashing loudly around us, lights begin to flash across the dark sky and water that has enveloped the stage, while an appearance from the ship's crew turns chaotic as their voices grow more alarmed and we witness them lose their battle to stay afloat, eventually become marooned on a tropical island…
Once more, the calm, warmth and light returns but we discover this is no ordinary island, as we meet its existing inhabitants, learn their experiences and marvel at the digitally enhanced supernatural scenes that slowly unfold before us.
Staff in hand, and joking with the audience and beloved daughter, Miranda, played gracefully by Jenny Rainsford, while simultaneously and secretly instructing his ethereal trustee Ariel to orchestrate events on the magical island, Simon Russell Beale's portrayal of Prospero is a powerful yet endearing one, drawing us in to empathise with his paternal story.
The star of this play and of this version, is magic and enchantment, which is magnified with the elaborate digital settings that force the audience to be among the other-worldly material of the Tempest in such vivid detail, almost physically, without even leaving their seats. This is also due to the majestic presence of spirit, Arial, who is mightily captivating in every appearance on stage with vibrant projections and a charming performance by Mark Quartley. In contrast, Caliban's savagery is still compelling in Joe Dixon's version as he thuds about the stage. The music and dance in this production is spellbinding too, varying in style to emphasise the particular theatrics in a scene, for instance Caliban's heavy chant has the opposite and repulsive affect to that of the appealing delicate dancing nymphs. The music builds throughout to produce one of the most rousing and beautiful moments of the show, which arrives with a trio of sweet singing spirits.
The use of special effects and staging, together with the cast's undeniable skills that visualise the Bard's prose in a new way some 400 hundreds of years later is what makes this RSC performance of the Tempest a most mesmerising and memorable one.